Biriyani AllinAll Azhaguraja satellite rights sold
PUBLISHED DATE: 11/Sep/2013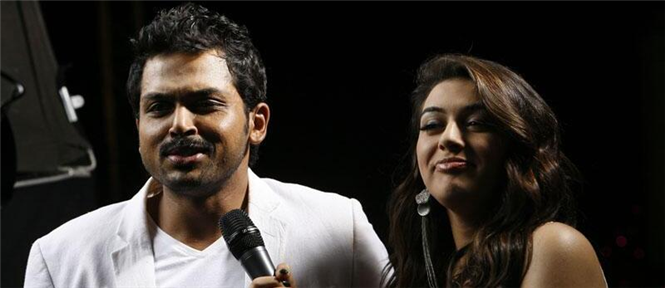 Biriyani AllinAll Azhaguraja satellite rights sold
---
The satellite rights of Karthi's upcoming films 'Biriyani' and 'All in All Azhagu Raja' has been sold to Sun TV for a record price of 11.5 crores each.
All in All Azhagu Raja starring Karthi, Kajal Agarwal and Santhanam is directed by Rajesh of OKOK fame. The film is set to hit the screens for Diwali. Biriyani starring Karthi, Hansika and Premgi Amaren is directed by Venkat Prabhu. The film is slated for Pongal 2014 release. Studio Green has produced both the films.
Proudcer KE Gnanavel Raja of Studio Green has tweeted, "Alaguraja and Briyani satellite is sold for 11.5 each to sun tv, Veeram for 13 and Thalaivaa for 15, Suriyas next is sold for 15."
Featured Trailers